Introduction of Indium
Time:2014-08-10 Click:4956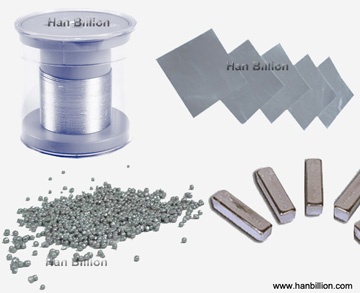 INDIUM
Physical Properties of Indium Metal
Indium was first discovered in Germany in 1863 and became the 49th element in Periodic Table.

The name indium relates to its indigo blue spectral lines. The metal is a lustrous silver-white. It is very malleable and ductile and can be easily formed. It remains soft to temperatures approaching absolute zero, making it ideal for cryogenic and vacuum applications.

Some of the other characteristics of indium include:
1). Cold Welding: Oxide free indium has the unique ability to cold weld or attach to itself. Parts coated with indium can be bonded together without the addition of heat or chemicals.
2).Metal Catalyst: Doping other pure metals with small amounts of indium, results in alloys that can be stronger or harder. For example, one of the first applications of indium is its addition to dental alloys.
3).Improve Resistance to Thermal Fatigue: When indium is added to standard solder alloys, the joint is less likely to fail due to thermal fatigue.
4).Reduce Gold Scavenging:When soldering to gold or gold-plated surfaces, solder has a tendency to dissolve gold into the joint. The addition of indium to the solder will reduce this tendency.
5).Low Melting Point Alloys:Indium is often used to produce low melting point alloys which are used as fuses or temperature indicators. Low melting point alloys are also used in the optical industry to hold or "block" lenses during the polishing process. The polishing machine tool grip the alloy, not the lens, allowing the lens to be polished with minimized distortion. The alloy's low melting point then allows it to be removed from the lens with a minimum of heat and no damage.
6).Join Materials with Different CTE's: Many times, materials being joined have different coefficients of thermal expansion (CTE). Traditional solder joints can crack during the expansion/contraction process because of this. Indium, when added to a solder alloy, provides ductility which can enable the materials to expand and contract at their individual rates while absorbing the CTE difference of the other material, all without cracking the bond.
7).Bond Glass, Quartz and Ceramics:These materials cannot be bonded with traditional solders. Indium's unique cold welding properties allow it to produce a bond in a variety of non-metal applications.
8).Reduce or Eliminate the Use of Lead and Mercury: The use of indium in most of today's alkaline dry cell batteries allows them to be more environmentally friendly by eliminating mercury and by delivering more energy per battery. In the soldering arena, indium-containing alloys are candidates for replacing lead-bearing alloys.
9).Transparent Electrical Conductor: When indium (in the form of indium-tin oxide) is coated onto various materials such as glass or plastic films, it acts as a transparent electrical conductor and an infrared reflector. When architectural or photovoltaic glass is coated with indium-tin oxide (ITO) it keeps the harmful infrared rays of the sun from passing through. When coated onto automotive or aircraft windshields, it allows the glass to be electrically deiced or demisted as well as reducing the air conditioning requirement by reducing heat gain.
10).Malleable: Because indium is so soft and pliable (malleable), it can easily fill voids between two surfaces, even at cryogenic temperatures.
PHYSICAL PROPERTIES OF PURE INDIUM
CRYSTALINE STRUCTURE

Face-Centered Tetragonal: at 25C, a = 0.32525nm and c = 0.49465nm

MASS

Atomic weight

114.82

Specific gravity:

C

gm/cc

20

7.3

164

7.026

300

6.916

THERMAL PROPERTIES

Melting Point

156.6oC

Boiling point

2080oC

Coefficient of thermal expansion

Linear, 24.8µm/m·K at 20 oC

Specific Heat:

C

J/kg·K

25

233

127

252

156.63(solid)

264

156.63(liquid)

257

Latent heat of fusion

28.47 kJ/kg

Latent heat of vaporisation

1959.42 kJ/kg

Thermal conductivity

83.7 W/m·K at 0 oC

Vapour pressure:

C

kPa

1215

0.1013

1421

1.013

1693

10.13

2080

101.3

ELECTRICAL PROPERTIES

Resistance:

C

nW-m

3.38 K ---- Super Conducting

20

84

154

291

181

301

280

348

Electrochemical equivalent

Valence 3, 396.4 µg/C

Electrode potential

InDeg/--> In3+ + 3e, 0.38V

MAGNETIC PROPERTIES

Magnetic susceptibility

Volumetric: 7.0 x 10-6mks

NUCLEAR PROPERTIES

Stable isotopes

113, 115

Thermal neutron cross section. For 2.2 km/s neutrons:

absorption, 190 ± 10b; scattering, 2.2 ± 0.5b

MECHANICAL PROPERTIES

Tensile strength.

K

MPa

295

1.6

76

15

4

31.9

Compressive strength

2.14 MPa

Hardness

0.9 HB

Elastic modulus at 20o C

12.74 GPa in tension

Poisson's ratio at 20oC

0.4498